Injection Molding and Assembly of Air Valves for the Shipping Industry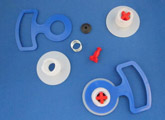 At KRC Custom Manufacturing, we provide quality plastic molding services for various applications. We were contracted by a customer in the shipping industry to manufacture an air valve assembly. This customer was unhappy with the quality of the products from their former supplier, and turned to us in 2003 due to our reputation for quality and customer service. We have been working together ever since.
Using our advanced equipment, we can manufacture over 1.4 million air valve assemblies per year for this customer. Manufacturing required the use of our Van Dorn 50 ton, Demag 60 ton injection molders, and our 8 station semi-automated rotary assembler. Our 60 ton Demag was used to run the bodies and blue handles, and the seals and plungers were run on our 50 ton Van Dorn. Our 8 station semi-automated rotary assembler was used to place and press the air valve assemblies together. Each part is made of distinct material; the bodies are made with LLDPE, the seals are made with Santoprene, and the red plungers and blue handles are made with HDPE.
For this injection molding project, we also assembled multiple parts including the body, seal, red plunger, and spring to offer as an assembled unit. This unit is used to fill and hold air in a dunnage bag, which fills empty space in a trailer, rail car, or container. Our customer was able to take advantage of our primary and secondary offerings, having the project molded and assembled in one location.
Quality assurance testing is completed through visual inspection and leak test sampling of the units. To learn how KRC Custom Manufacturing can supply you with our injection molding services, do not hesitate to contact us.
Request a Quote
Highlights of this Injection Molded Air Valve Project
Air Valve Assembly Injection Molding

Used to fill and hold air in a dunnage bag. The dunnage bag is used to fill empty space in a trailer, rail car, container
Capabilities Applied/Processes

Primary:
Injection Molding
Secondary:
Assembly
Equipment Used to Manufacture Part

Van Dorn 50 Ton
Demag 60 Ton
Semi-automated 8 station rotary type assembly machine
Overall Part Dimensions

3-3/4" x 2-3/4" x 1" with handle 2" Dia. x 1" without handle
Material Used

Body: LLDPE
Seal: Santoprene
Red Plunger: HDPE
Blue Handle (Sold Separately): HDPE
In process testing/inspection performed

Visual inspection and leak test sampling
Industry for Use

Shipping Industry
Volume

Up to 1,440,000 assemblies in a year
Up to 385,000 blue handles in a year
Delivery/Turnaround Time

Usually stay ahead of customer and are able to ship same day as PO or next day
Delivery Location

USA
Standards Met

Customer supplied print, 2D CAD Drawing
Product Name

Air Valve Assembly
View Other Projects